N E W S
09 February 2011. Items from House of Thule. Lots of new recipes. Hundreds of icons.
This update should have been published some months ago, but to be honest we never found the time... until now!
As you can see we have all the new zones, most of the new recipes and -I hope- all the new items! We have also break the 92k items milestone. Can you image yourself creating such amount of items, each with different stats, clases etc? Looks like an endless and painfull work!!
Anyway... have fun, enjoy the last EQ expansion and don't forget to check the new 14 slot bags recipes... ;)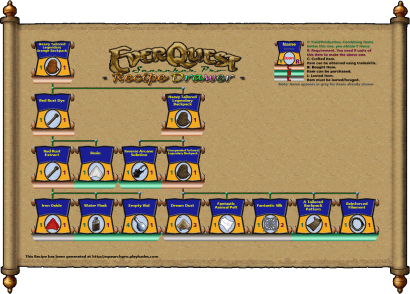 14 July 2010. New items from Convorteum and new version of FrogDMG!!!
Hello all! As every year before holydays we have a small update (most updates regarding new items from Underfoot)
Apart from that, we can also announce the new release of FrogDMG, version 1.0.4.
You can download it from here
.
One of the new features is that now you can see the list of spells casted/interrupted/fizzled!

7 new zones!
88 new mobs!
518 new items!
4951 new drops!
Oh! and I want to give a special "thanks" to our "artists" for the hundreds of new icons for the new expansion items!!
Cyall after holydays and don't forget to download the latest version of FrogDmg!!!
24 February 2010. Our Free Everquest DPS parser FrogDMG!!! is ready for download!
As you may noticied, we have had some problems with our databases recently, and even though everything is working now (I hope!!), we have lost some statistics and minor numbers... among others, now I am not able to tell you the exact number of additions that we had :(.
Anyway... As this is the first update since the last UnderFoot expansion, you can live knowing that we have added some dozens of new zones, some thousands of new items and some hundreds of new mobs... nothing fancy here :P.
The
BIG NEWS
today is the announcement of the first "life" version of our
FrogDmg
on-the-fly dps parser
.
You can access the download zone here
.
There are still some issues we are working on (and all the fancy features you requested of course), but as we dont have many time these last weeks, we have decided to publish what we have (which is far more stable than the alpha test version we were distributing) and let you know when there is a new release...
So... download it, test it and PLEASE send us a mail telling us what u think!!!
We want to thank the effort of all the testers (of those who sent mails at least! ;)) and we hope that you find FrogDmg!!! as usefull as we do.
07 October 2009. ANNOUNCING FrogDMG!!! Our Everquest DPS Parser!
Today, besides our tipical update on database new additions (lets finish it quick...),
7 new zones! (Mostly related with that 'OldMan missions')
23 new mobs!
388 new items!
2217 new drops! (New milestone! The 175k barrier has been broken!!!)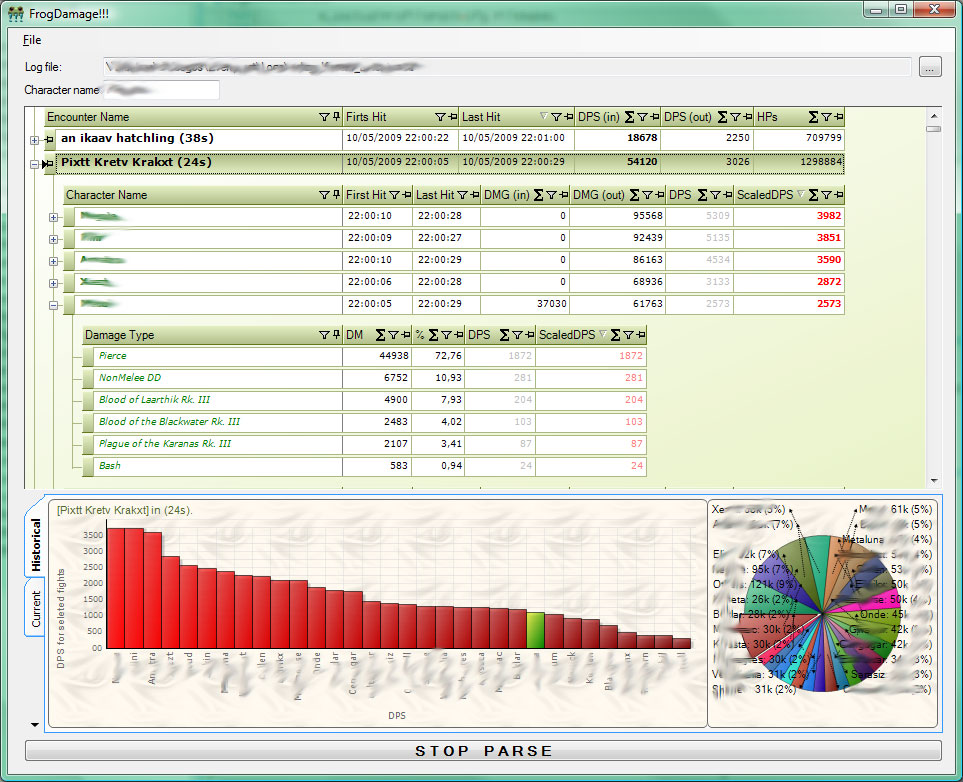 And now...
I am really glad & proud to announce that our long-waited DPS Parser (in Alpha Version!) is available for testing!! We need people willing to test it with their chars and report possible bugs, ideas... whatever!
You can see the small screenshot of the application (FrogDaMaGe!!! from now on ;)) below this lines.
At the moment it's capable of
Parsing during normal gameplay
Shows the current DPS (the DPS thats being done NOW against one or more mobs!!) or autoswitches to the most recent finished encounter (depending on the selected tab).
Logs hit types (pierce, bash...) and DoT names, showing the total dmg percentage of each one!
Every log file may be associated with a "profile", allowing ultrafast positioning to the last parsed position not needing to delete your log everytime you want to parse something, or waste a lot of time just because the program is reparsing what it is already done...
Multiple profiles allows easy switching between log files in seconds. You don't even need to search for the log!
It is FAST, It is SIMPLE (just 2 buttons ;)), it is Graphical!!
Fancy features... under developement :P
Already tested in XPSP2 and Vista
So, if you want to receive a free fully functional copy of
FrogDMG!!!
and you want to test it, please, send us an
email
and you will get the download instructions.
Have FUN and blame Slackers!!! =D
15 July 2009
Small update before holydays! About time after 4 months... ;)
We had problems with our MySql server again, and after many weeks it looks fixed. With a bit of luck you will not see more 'mySql server has gone away' errors while searching the database!
14 new zones!
792 new mobs!
1596 new items!
3360 new drops! (lets goooo the 175k barrier is sooo near)
187 new Recipes! (and some fixings in old ones)
As always, we want to give a BIG THX to all our collaborators!
16 March 2009
Our yearly rewamp has delivered an impressive result! Now we are ready for Fableds, new expansions or whatever!
18 new zones!
230 new mobs!
755 new items!
20495 new drops! Yes! Thats 20k+! We must thx the incredible job of our tireless colaborators! We have surpassed the 170k drop barrier, and we can proudly declare that we have one of the most complete everquest databases on the world! (with the exception of Lucy of course :))
11 February 2009
Here we are again with our monthly update!
1 new zone!
11 new mobs!
63 new recipes!
96 new drops!
344 new items!
15 January 2009
After months of tests, bugs and feedback of all our visitors and collaborators, we are proud to announce the final (beta version...) of the Recipe Drawer Engine!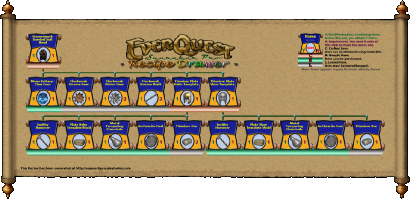 You are now able to interactively consult the full recipe tree of almost all the tradeskillable items in EverQuest (and jump to the equivalent EqTraders page if you want, when available ;))!
If you want to test this new feature or just use it, simply go to the 'Fast Search' page (for instance) and type a part of the item name that you want to built or to know if it is part of any valuable recipe ('brambleborn' is a good example...). Then, select the item from the list (you will see 'brambleborn Boots, Greaves, Helm...' and all the different qualities together (Elegant, Grandmaster, Journeyman...). Inmediately you will see a miniature recipe drawing, and, if you click on it, the full interactive recipe!
You will see all the required 'help' on the recipe drawing page, but let me explain a few things right now :) ...
Every item that appears on the drawing is placed on a bookcase, and there are 3 different coloured bookcases, depending on the origin of the item: Green for buyable items, brown for crafteable and silver for looted items.
If you move the mouse over any drawed item, a box with usefull info will roll down (stats, trivial for subcombines, skill required...), so you can get as many info as possible without changing the page!
Of course, if you click on a drawed item, a new page will be opened for it
And you can link the images (both the thumbnail and the 'big size') in your favourite forums!
We hope you like it and find it as usefull as we do :)
BTW... we are still looking for an artist able to do some pretty boxes for the items drawed on the recipe... *blush* /tell us if you want to/can help...
PLEASE SEND US AN EMAIL IF YOU FIND ANY ERROR OR HAVE ANY IDEA OR COMMENT
11 January 2009
We have needed months of work but finally we have made all the new expansion icons (or most...)! Over
400
new images!
Thank our designers for their work! :)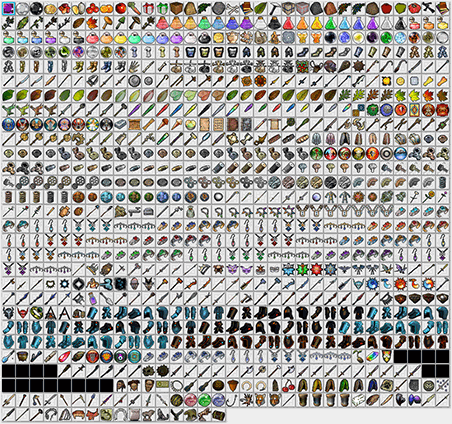 4 January 2009
Happy new year to everyone!
We have been very busy during xmas and we have done a BIG database update with the latest items, mobs, drops and zones found in the last Everquest expansion,
Seeds Of Desctruction
, including the ubberest drops from the
Discord Tower
!!!
18 new zones!
66 new mobs!
138 new items!
1893 new DROPS, we have surpassed the 150k drops barrier!!!